CPPC Sustainability Dimensions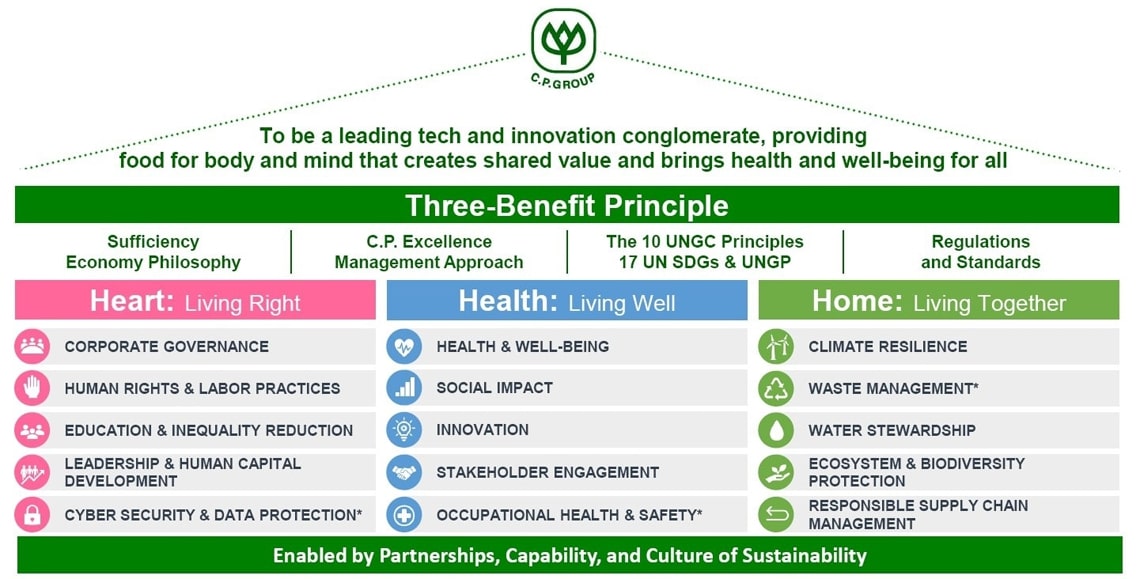 CPPC
has adopted the 'Three-Benefit Principle' in its business operations. Charoen Pokphand Group has sustainably developed for nearly a century by adhering to the principle, which grew out of a simple drive to put the interests of others first, means we are dedicated to providing benefit for all countries in which we invest, followed by the people and communities where we operate, and finally, the business itself, its employees and shareholders.
F
or businesses to be sustainable, they need to be mindful of the ever-changing world. The global economy is constantly developing, having moved from traditional industry to the innovation-driven economy of today. Over the years, Charoen Pokphand Group has evolved in order to meet such global economic changes.
I
n the past, CP Group has done many social and environmental activities, most of them were not publicized. However, engagement is now playing an important roles nowadays. The company needs to open the opportunities for stakeholders such as partners, employees, and community to join. The outcome of cooperation from all stakeholders shows that it brings about more powerful impact to the society.
T
he company's 'Three-Benefit Principle' has been translated to three sustainability dimensions; Heart : commitment to sustainable business, Health: commitment to sustainable society, and Home: commitment to sustainable environment. This principle is the foundation of company sustainability procedure which adopted by all business units.